Extension - Unique payment account for each resource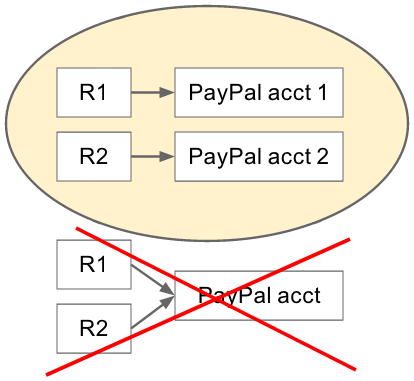 This extension will let you specify different payment gateways and accounts for different resources. By default only a single account can be used with the entire planyo site. For example, using this extension, your resources can each use a different PayPal-registered email address. This way payments for reservations for different resources will go to different PayPal accounts.

There's also a possibility of using up to 10 additional payment gateway accounts. These accounts can be chosen dynamically at the time of the reservation and can depend on a condition of your choice.

Restrictions: this extension will work with the payment gateways supported by Planyo (except for SagePay and MultiSafepay). Using mixed payment gateways (chosen by the end customer) is not supported by this extension, it will only work with a single gateway choice. However, each resource can use a different payment gateway.
CHF 23/mois
Commencer un abonnement mensuel a cet extension. L'extension sera hébergée sur nos serveurs, donc aucune installation n'est nécessaire. C'est la façon la plus simple d'utiliser l'extension.

Le premier mois est toujours gratuit pour vous donner du temps pour bien tester l'extension. Après les 30 jours d'essai les frais mensuels seront débités automatiquement de votre compte jusqu'a l'annulation de l'abonnement a cette extension. Le solde de votre compte Planyo doit être positif pour commencer l'essai.