Extension - Google Contacts export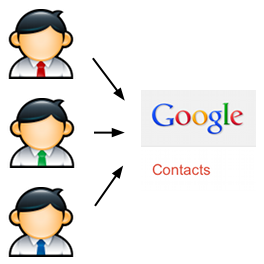 This extension will export contact information for the reservations entered into your planyo site. By default the export will be done at the time of confirmation although you can change this so the export works for unconfirmed reservations as well.


Download version
The download version will require that you upload extension files to a directory on your own web server. Your server must have PHP support (version 5.2 or higher) and you'll need to create your own Google API key (according to the instructions in the manual, see below). You can read the details about the required steps in the setup manual
here
.
Advantages of the download version:
You pay only once and can use the extension for as long as you like without additional fees.
CHF 23
Après l'achat, vous pourrez télécharger l'extension et l'installer sur votre serveur. Vous payez une seule fois pour l'extension mais la configuration sur votre serveur est nécessaire et votre serveur doit vous permettre d'utiliser PHP.

Votre credit planyo sera débité une seule fois pour l'achat de cette extension. Vous aurez 30 jours pour demander un remboursement (uniquement dans la forme des crédits planyo ajoutés a votre compte).
Subscription version
The subscription version is much easier to set up -- the only required configuration step is determining whether the contacts will be treated as work or home.
Advantages of the subscription version:
The first month is free so you can test the extension very easily, also in case you prefer to get the download version later on. Very easy set up, only choice if you don't have your own server (or you have one without PHP support) or if you simply want to get started without hassle of going through the setup. At any time in the future you will be able to cancel the subscription and purchase to the download version at any time in the future.
CHF 1.9/mois
Commencer un abonnement mensuel a cet extension. L'extension sera hébergée sur nos serveurs, donc aucune installation n'est nécessaire. C'est la façon la plus simple d'utiliser l'extension.

Le premier mois est toujours gratuit pour vous donner du temps pour bien tester l'extension. Après les 30 jours d'essai les frais mensuels seront débités automatiquement de votre compte jusqu'a l'annulation de l'abonnement a cette extension. Le solde de votre compte Planyo doit être positif pour commencer l'essai.